Discover more from Asia Tech Review
A weekly newsletter to keep up with tech news across Asia.
Huawei on the comeback trail and IPO news is everywhere
Asia Tech Review: 2 November 2020
Welcome back,
Last week's ATR went out mid-week and, since I don't want to share the same links again, today's email is briefer than usual. But that's definitely a good thing.
Still, there's plenty to get through. The main focus is Huawei, as details of its recovery from the US trade blacklist begin to circulate. There's plans for its own chip making facility but that'll take years to bear fruit.
Elsewhere, there's a deep story on how Foxconn's relationship with Apple is going pear-shaped and a flurry of IPO news from across the wider region.
Happy November (yes, already) and take care until next time,
Jon
---
China
There's been a lot of talk of Huawei's struggle to survive a US trading blacklist but a pair of stories from the FT suggest that the Chinese firm is making progress on a survival plan.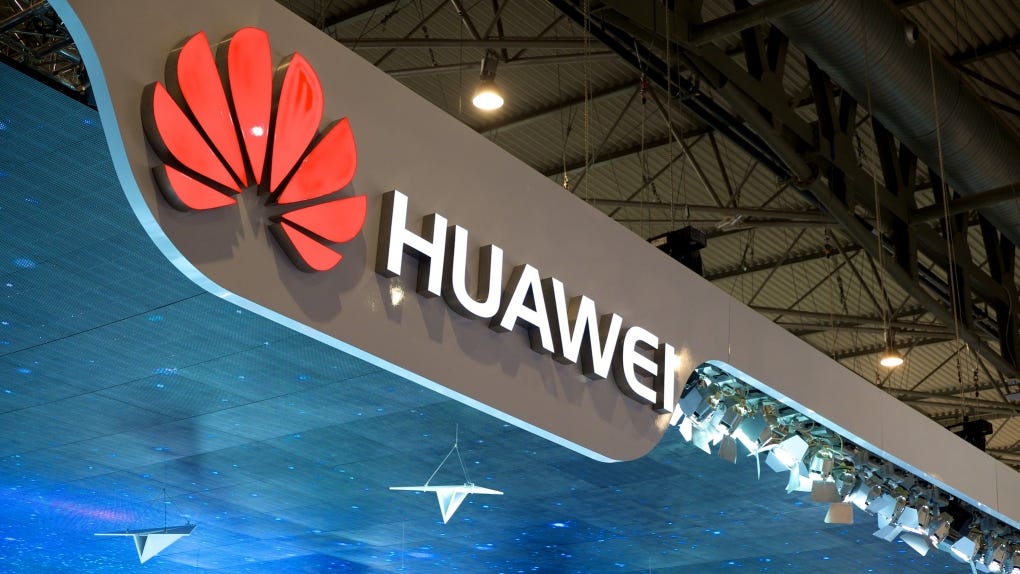 Image via Kārlis Dambrāns/Flickr
The Chinese firm is reportedly developing a chip manufacturing plant in Shanghai that would allow it to produce the type of components that it currently relies on US partners for—and is therefore in a bind about.
But it'll take some time, as the FT points out:
The fabrication plant will initially experiment with making low-end 45nm chips, a technology global leaders in chipmaking started using 15 years ago.

But Huawei wants to make more advanced 28nm chips by the end of next year, according to chip industry engineers and executives familiar with the project. Such a plan would allow Huawei to make smart TVs and other "internet of things" devices.

Huawei then aims to produce 20nm chips by late 2022, which could be used to make most of its 5G telecoms equipment and allow that business to continue even with the US sanction
The second FT story is a potential fix for some of the firm's more immediate issues. Chiefly, the US is said to be allowing a growing number of chip companies to supply Huawei with components, but they are not to be used for its 5G business. This could provide a lifeline to Huawei's smartphone business, which is timely since it has reportedly considered divesting its Honor unit:
The US Department of Commerce "has been telling companies in recent conversations that while licences to supply Huawei are handled with a view to denial, this can be overcome if you can demonstrate that your technology does not support 5G", said a semiconductor executive involved in dialogue with the department, referring to the cutting-edge telecoms infrastructure.

Executives at two Asian semiconductor companies said they were optimistic that their applications for licences to resume shipments to Huawei would be approved. "It has been indicated to us that chips for mobile devices are not a problem," said one of them.
ByteDance is hiring over 3,000 more engineers for TikTok across Europe, Canada and Singapore over the next three years
Speaking of which, The SCMP has an excerpt from Matthew Brennan's new book on the rise of ByteDance
Baidu has fallen away from the top Chinese tech firms in recent years but it looks like it is betting on live-streaming as one avenue back. The company is said to be close to buying Joyy China for as much as $4B, giving it access to its YY service. This is not the first piece of consolidation involving the company lately:
Joyy sold its controlling interest in game-streaming platform Huya to Tencent in August. Tencent merged Huya with its rival Douyu to form a single dominating player in the e-sports market.
China already monitors social media but now it is turning to browser makers to clamp down on what it sees as misinformation
<IPO news #1> Beauty brand Yatsen, which operates Perfect Diary, is listing on the NYSE—that's a first for the Chinese cosmetics industry
---
Taiwan
The Information has an explosive story on Foxconn's "eroding relationship" with Apple:
Foxconn has tried a variety of tactics to enhance its margins, all previously unreported, such as using Apple-owned equipment when doing work for Apple's rivals and taking shortcuts on component and product testing, ex-employees said. In turn, Apple has tried to step up its monitoring and tracking of Foxconn employees and of Apple's own equipment that resides in Foxconn facilities.

Meanwhile, the relationship between the two companies is changing, as described by interviews with more than two dozen former Apple and Foxconn employees, including some senior managers. Apple, like its rivals Samsung, Nintendo and speaker design firm Sonos, is diversifying its manufacturing sites in an effort to hedge its bets. These companies are aiming to expand the number of manufacturers they work with and the countries where they operate in response to growing geopolitical risks such as the U.S.-China trade war. As a result, Foxconn's bright satellite in Apple's orbit has lost some shine.
On the subject of chip makers in a fix: Taiwanese contract chipmaker United Microelectronics Corporation has pleaded guilty to a US criminal charge of stealing trade secrets and been fined $60m, the second-largest penalty for such cases.
---
India
Tata Group is reportedly preparing to pay $1B to get a majority stake in online grocery platform BigBasket—as written in ATR before, Tata is trying to develop its own super app strategy presumably after watching Reliance raise over $10B for its internet platform play
Tata is also said to be developing a phone component manufacturing plant for work with Apple. It is said to be prepared to spend 5-8,000 crore, or up to $1B.
India wants to expand UPI, its payment infrastructure, to the rest of Asia. This has been a rumour for some time but, beyond tourism, it seems there are grander plans:
NPCI's recently set- up subsidiary NPCI International (NIPL) and Kansas-based fintech company Euronet have jointly submitted a bid to the Central Bank of Myanmar (CBM) to build the South Asian nation's proposed Real-Time Retail Payments System and QRcode Generation and Repository System, two people aware of the talks told ET.
Malaysia, UAE and Singapore are also said to be on the radar.
For context, The Ken has a story on how UPI has caused Visa (and Mastercard) pain in India.
Visa accounts for a much higher rate of transaction value, as you'd expect given the customer base. But in terms of sheer transaction volume, UPI is a serious competitor.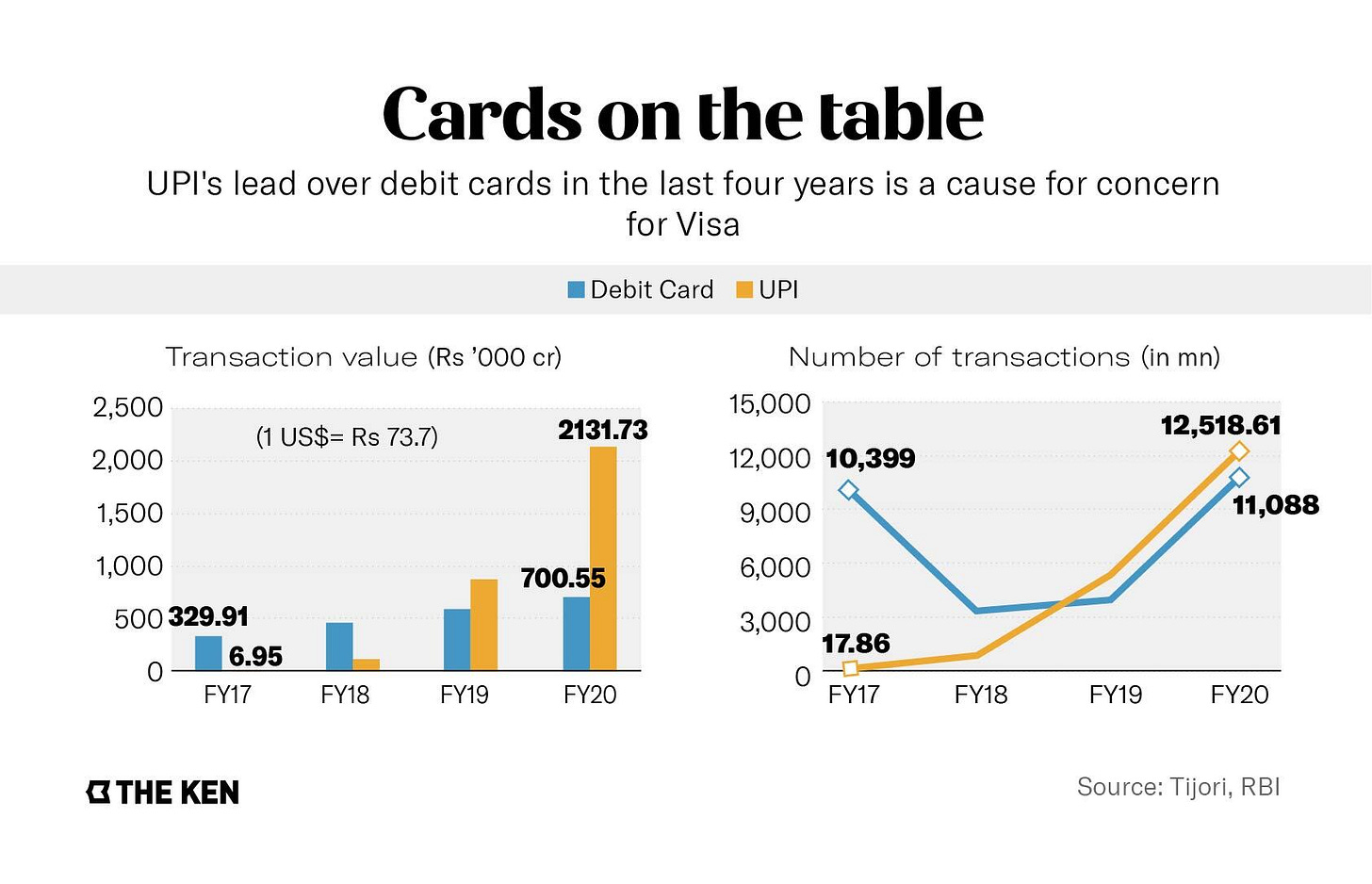 The question is, of course, how many of these UPI transactions would have gone through Visa or Mastercard had UPI not existed? Probably not that many.
Can Visa and Mastercard profit from UPI by 'upgrading' UPI customers to their services for the first time? That's likely among their bets.
The Washington Post reports that India's caste system has been exported to Silicon Valley
---
Southeast Asia
We've said Ant Group's IPO will be an all-China affair and that's been made clear from a Reuters story which reports that support for overseas partners and investments has been cut:
The shift in strategy by the Alibaba-backed fintech giant came late in 2019, brought on by a change at the helm and a reworking of priorities as it planned for its IPO and grappled with regulatory challenges at home.

It has made large cuts to the hundreds of millions of dollars it spent each year to subsidise user growth at overseas e-wallet firms offering digital payment and other financial services, and is repatriating Ant staffers, according to more than a dozen executives who work or have worked with Ant in nine countries.
I recently wrote about Ant's "disjointed" presence in Southeast Asia.
<IPO news #2> Singapore got an IPO as Nanofilm Technologies raised $375M in the biggest IPO on the Singapore bourse in 8 years
Singtel has a new CEO taking the top spot, we wrote about the challenges he faces and why he is a good bet for activating change—Singtel's stock price is at a 12-year low so a little freshening up is certainly in order
Indonesian telco Telkomsel is reportedly planning a $150M investment into Gojek via convertible bonds
Tokopedia, another Indonesian tech heavyweight, is also lining up big name investor money with Google and Temasek said to be behind an upcoming $350M investment
---
Japan
Sony has upset Japanese gamers by changing the configuration of its controller for the PS5:
For a quarter-century and three subsequent generations of PlayStation consoles, these two systems muddled uncomfortably along, with the button-based canyon between Japan and the rest of the world widening. Menu navigation habits bedded in over decades with the players; the games industry diversified and cross-pollinated; and the global PlayStation user base soared beyond 100 million. Some games offered players reconfiguration options, but often the controls of Japanese games felt unnatural or counter-intuitive to western gamers, and vice versa.

But now, a couple of weeks ahead of the launch of the PlayStation 5, Sony has made a remarkable decision: the function of the circle and cross buttons on the DualSense controller will, for the first time, be globally standardised on the new system. In a move that has stirred a stew of bemusement, resignation and horror among Sony's domestic fanbase, the non-Japanese configuration has prevailed.
---
South Korea
Samsung posted impressive earnings thanks to its smartphone business but it is already warning that increased competition and a lull in demand for memory will mean momentum drops
<IPO news #3> Krafton, the games studio behind PUBG, is preparing to go public in its native Korea. The IPO could be Korea's largest debut with talk of the company raising $9B at a valuation of $26B. Tencent is a major investor.
<IPO news #4*> Speaking of IPOs, I'd bet Coupang is gearing up for one. The firm just hired former Uber CTO Thuan Pham as its own CTO—that sure looks like a pre-IPO hire
*I'm being a little speculative here, but Coupang has said it plans to go public in 2021… have the events of 2020 changed that?
---
Elsewhere in Asia
North Korea's cyber army is posing as reporters to target "think-tanks, and diplomatic and high-level organizations in Japan, South Korea and the United States, with a focus on foreign policy and national-security issues related to the Korean peninsula, nuclear policy and sanctions"
---
And finally...
This is amazing: AI Camera Ruins Soccer Game For Fans After Mistaking Referee's Bald Head For Ball
---
You just finished reading Asia Tech Review, the weekly newsletter for keeping up with the tech industry across Asia.
If someone sent this to you, you can sign up for free at Asiatechreview.com