Discover more from Asia Tech Review
A weekly newsletter to keep up with tech news across Asia.
Huawei reacts to US pressure and Grab-Gojek merger is back on the menu
Asia Tech Review: 19 October 2020
Welcome back,
It's been a hectic past couple of weeks, including the breakdown of my trusty MacBook—I'll spare you the full details—but ATR is back and there's plenty to digest this week.
The story I'm keeping my eye on is Grab and Gojek's much-mooted merger deal which, according to reports, now has the backing of SoftBank's Masayoshi Son. Curious, it appears that he'd siding with Gojek's demands. But a deal isn't straight forward by any means. We rounded up our team at The Ken to explain why it'll be tough even if both sides can (somehow) find common ground and hash out an agreement. (This one is our free read for the week so do check it out even if you're not a subscriber.)
Until next time,
Jon
PS: if you haven't heard of The Ken, you can sample our work as part of our four-year anniversary campaign happening—just click this link
---
China
The US drew blood from Huawei, which is reportedly in talks to sell chunks of its Honor smartphone brand—which has been successful in generating sales of mid-range devices among young people and other budget-conscious buyers. The reason is likely that blacklisting from the US made it tough to buy components and other pieces for the phones, new ownership could change that.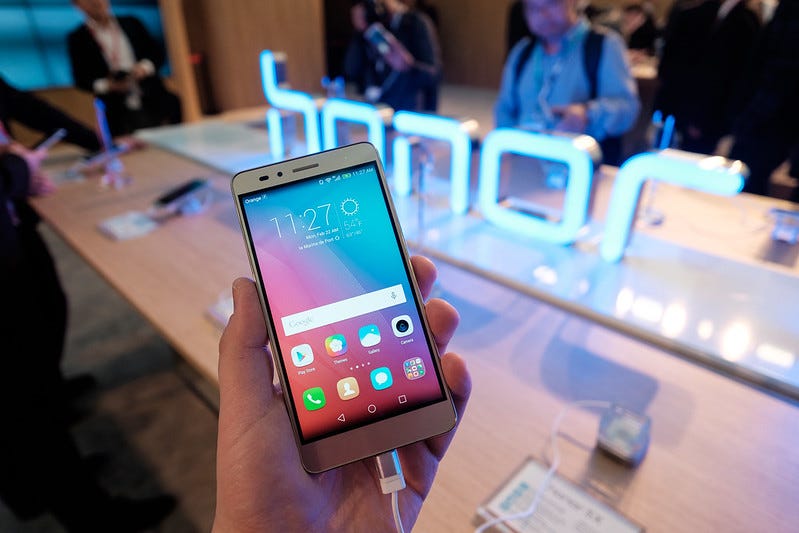 Image via Kārlis Dambrāns/Flickr
America looks like it'll try a similar trick for Ant Group with the Trump administration reportedly planning to add Ant to a trade blacklist which could make it harder to work with US companies. (Ant barely has any US business, and an effort to buy MoneyGram fell through in 2018 after the US government canceled the deal.)
Remarkably we can talk about US government intervention without an update on TikTok USA or WeChat. Not sure how long that'll last though.
But nothing—even domestic regulation going against it—seems to be derailing the Ant IPO. Indeed, it looks like early estimates for Ant's IPO were too low. The firm is now reportedly shooting for a valuation of "at least" $280B, that's up from $250B. 
Elsewhere in Babaland, Alibaba is spending $3.6B to take majority ownership of grocery retailer Sun Art as it continues its offline commerce strategy
Nasdaq-listed Chinese video platform Bilibili is planning a secondary listing in Hong Kong that could raise up to $1.5B
Two games streaming giants are teaming up after Huya agreed to DouYu—both are backed by Tencent, which is of course a world leader in gaming
China Creation Ventures closed a new $300M fund
Carl Pei, a co-founder of OnePlus, has left to start his own project
How China has businesses doing its censorship work for it—Chinese internet companies have had their own content self-policing divisions for years
China is set to pass a new law that would restrict sensitive exports vital to national security, expanding its toolkit of policy options as competition grows with the U.S. over access to technologies that will drive the modern economy
---
Taiwan
Foxconn now plans to make electric vehicles 
Meanwhile, Foxconn's great American dream is struggling. The firm was just denied tax subsidies in Wisconsin because it isn't building what it promised and has failed to hire enough people 
---
India
Lee Fixel is reportedly raising his second $1B fund in a year—he is, of course, the executive who brought Tiger Global (and its billions) to India
Zomato snagged $52M from Kora Investments are part of an ongoing $600M round—it is said to have around $220M confirmed so far
Young startups are now actively avoiding capital from Chinese investors
150 of India's startups have come together to build their own version of an app store… but it's harder than it looks and isn't the ultimate solution
RazorPay is set to become India's latest $1B startup
Flipkart and Walmart invested $30M into Ninjacart
Uber let thousands of workers worldwide go as part of Covid-19-related cuts, now it is rehiring over 200 positions based out of India
India is working on reform that will make it easier for companies to go public. Apparently now it has decided that it won't force those who opt to IPO overseas to also list domestically, too.
Tata said before it is going to build a super app—part of that appears to be adding its own payments network... for some reason. Tata is also looking to tie-up with grocery firm BigBasket.
---
Southeast Asia
SoftBank supremo Masa Son is reportedly pushing Grab and Gojek to agree to a merger deal. Interestingly, Son is said to favour a regional deal versus Grab's desire to own Gojek Indonesia outright and ignore Gojek's (small) presence outside of Indonesia. (Despite its efforts to double down in Thailand and Vietnam, where it has rebranded as Gojek.)
There's lots of coverage of talks between Grab-Gojek, which have been ongoing for close to a year but little is said of the challenge of putting a deal together. We—my colleagues at The Ken and I—wrote in detail about the practical challenges of the merger: splitting Indonesia/SEA, figuring out how to handle financial services and regulators.
On ride-hailing: Singapore's ComfortDelGro was supposed to be disrupted by Grab, Uber and co but instead it is sitting relatively pretty during Covid-19
Logistics firm Flash Express raised $200M to venture outside of Thailand and across Southeast Asia
AC Ventures—a merger between two VC funds in Indonesia—announced its debut (post-merger) $80M fund
iSeed is a new seed stage fund in Southeast Asia and it is run by former AngeList staff
I wrote about how Singapore-based Mdaq raised investment from Ant, but ended up needing to diversify its business after Ant began to build its own version of its tech and a proposed acquisition agreement fell through
AirAsia is developing a super app strategy to deal with the impact of Covid-19—still hard to see it branching out as successfully as Grab and others, who are still a work in progress when it comes to being financially sustainable. What chance does AirAsia have?
Luxury e-commerce startup Reboonz was one of the first in Southeast Asia to go public via a SPAC, it didn't work out
The Philippines is registering millions of people with ID cards
Tencent has opened an office in Singapore and it is… at a JustCo co-working space
Malaysian on-demand work platform GoGet raised a $2 million Series A
Thailand's program to provide financial aid for citizens using cash cards is raising privacy concerns for the data it is generating for the government
---
Japan
How do you know SPACs have become a mainstream investment phenomenon? SoftBank plans to do one
---
South Korea
Uber has opted for yet another overseas joint venture after it paired up with SK Telecom in Korea, where it has struggled to make inroads
Good timing, too, since food delivery is booming in Korea
---
And also...
Excited to read this upcoming book on ByteDance from Matthew Brennan, a true China digital expert, and my former colleague Rita Liao:
Auditor EY is taking heat for its role in a string of companies that have been hit with controversy, including WireCard, WeWork and Luckin Coffee
A look at the flipside of China's digital currency
America launched a program that looks much like China's Belt and Road strategy—it'll give loans to developing countries to help wean them away from Chinese telecom and infrastructure gear
And a wild story on Chinese diplomats behaving badly
---
You just finished reading Asia Tech Review, the weekly newsletter for keeping up with the tech industry across Asia
Did someone send this to you? Sign up for free at Asiatechreview.com
If you read this far you might have enjoyed ATR, why not tell others about it? Click here to tweet