Discover more from Asia Tech Review
A weekly newsletter to keep up with tech news across Asia.
Hong Kong craziness, India's edtech boom and Indonesian unicorns hit funding trail
Asia Tech Review: 13 July 2020
Welcome back,
There's a lot to get into this week, much of which centers around the ongoing US-China tensions. Beyond the obvious stuff like TikTok trying to be less Chinese and Google giving up ill-advised plans to offer services in China (again), news includes Foxconn's apparent plan to invest $1B to grow its iPhone manufacturing in India.
There's the usual swings and roundabouts on IPOs. Video site Bilibili is lining up a Hong Kong listing, which is where Ant Financial's long-rumoured IPO will reportedly finally (really) take place. And at a valuation of at least $200B! Meanwhile, Weibo operator Sina is mulling an offer to delist from the NASDAQ and go private.
Oh, and I went on the Analyse Asia podcast to talk Grab-Gojek and things related to Southeast Asia tech.
See you next time,
Jon
---
China
Social distancing from China
ByteDance is said to be considering strategies to distance TikTok from its Chinese roots as it continues to attract criticism from politicians in the US, who are considering a ban. Ideas under discussion reportedly include creating a new management board for TikTok and opening a headquarters outside of China.
Still, it is hard to believe that any of these changes would stop a ban, if it turns out that the Trump administration wants to go down that path. (Amazon jumped into the picture when it emailed staff banning TikTok on work devices. It then reversed the order hours later—the message was, it claimed, "sent in error".)
Speaking of politically contentious projects: Bloomberg reported that Google recently abandoned a project to offer cloud computing services "in China and other politically sensitive countries."
In May, the search giant shut down the initiative, known as "Isolated Region" and which sought to address nations' desires to control data within their borders, the employees said. The action was considered a "massive strategy shift," according to one of the employees, who said Isolated Region had involved hundreds of workers scattered around the world.

…

The initiative would have allowed Google to set up cloud services controlled by a third party, such as a locally owned company or a government agency. The result would be a business sequestered from Google's existing cloud computing services, which include data centers and computer networks.
In other news:
Alibaba's Ant Financial—now known simply as Ant Group—is reportedly preparing for a Hong Kong IPO that could happen this year and value its business at a staggering $200B
Elsewhere in Chinese IPO watch: Royole, one of the first to make a dual screen smartphone, is reportedly considering a Chinese IPO after abandoning a US listing. JD.com is eying China's Star Market for an IPO for its fintech unit. Popular video site Bilibili could be next for a secondary listing in Hong Kong. Bilibili is listed in the US with a market cap of over $16M. Sina, the firm behind social media service Weibo and another US listed company, is weighing a $2.7B offer to go private.
Didi Chuxing is testing China's newly-minted digital currency as a payment method
US government contractors must now prove they don't have links to Huawei
Tencent is in talks to buy Hong Kong-listed gaming firm Leyou in yet another deal
Alibaba's Aliexpress Russia joint venture is said to be on course for $10B in annual GMV by 2023. The venture is said to be 3-4 years away from IPO, but a more immediate target is raising sales from Russia merchants as Chinese are said to dominate right now.
SCMP releases its annual China internet report
---
Hong Kong
Data law chaos
China's new security law has rightly drawn concern over its draconian nature and potentially sweeping impact. The rules effectively make it illegal for anyone to discuss the potential for democracy in Hong Kong, even those outside of the country and China, as Axios explains:
China has long sought to crush organized dissent abroad through quiet threats and coercion. Now it has codified that practice into law — potentially forcing people and companies around the world to choose between speaking freely and ever stepping foot in Hong Kong again.

…

This means that anyone advocating democracy in Hong Kong, or criticizing the governments in Hong Kong or Beijing, could potentially face consequences if they step foot in Hong Kong, or have assets or family members in Hong Kong.
In technology terms, it has impacted services. Facebook and WhatsApp have suspended user information requests from Hong Kong authorities while ByteDance removed TikTok from Hong Kong—where it already offers the Chinese version of the app, Douyin. Apple said it is "assessing" how the law impacts its business.
In other news:
Logistics startup Gogovan is rebranding to GogoX. It reached a $1B valuation in 2017 when it merged with a division of Chinese classifieds giant 57 Home.
---
India 
Edtech on fire
India is seeing serious consolidation in the edtech business which was one of the few industries to record positives from the Covid-19 outbreak. And it is hard to keep up!
Byju's is as big as they get. Despite concerns around its sales tactics, it is an investor favourite. Last month, it raised $100M from famed US VC Mary Meeker's new firm Bond at a valuation of over $10B—that deal followed a $200M investment from Tiger Global in January and $200M more from General Atlantic in February. 
Byju's has cash to splash to expand its repertoire, and now it is doing just that. It is reportedly looking to land Whitehat Jr, a platform for learning code, for $300M, and it said to be in talks to buy DoubtNut, a problem solving service, for over $100M. 
But it is not alone. Unacademy bought PrepLadder, a company that had never raised external funding, for $50M. Byju's and Unacademy are said to have explored merger talks before it opted for DoubtNut. Elsewhere, Uber investor Coatue in talks to invest around $100M in Vedantu, another edtech startup, in a deal that will double its valuation to $600M. Vedantu recently invested in DoubtNut rival Instasolv.
In other news:
Facebook is hoping a cloning effort will work. It launched Reels, a TikTok-style short video service, in an effort to fill the hole created by the ban on TikTok. Following the China app ban, the India government is said to be reviewing 50 investment proposals for local companies from Chinese entities. 
Jio grabbed two more investments for its platform business—this time from Intel and Qualcomm—cloned Zoom to create its own conferencing service and its Industries division is close to buying Future Group's retail businesses
Foxconn is reportedly investing $1 billion to expand its iPhone factory in India. The move is said to be part of Foxconn and Apple's strategy to relocate a portion of manufacturing away from China given ongoing US-China tensions.
Sequoia landed $1.3 billion in fresh funds for India and Southeast Asia—the money is split between a regular fund and a growth fund, its first for the regions
Zomato released a new financial report which, not without controversy, claimed its monthly burn rate has dropped to $1.5M—see chart below. That's opposed to a $293M annual loss last year. It said revenue grew 105% last year with costs up only 47%. Levels are close to 80% of what they were before the pandemic, it said.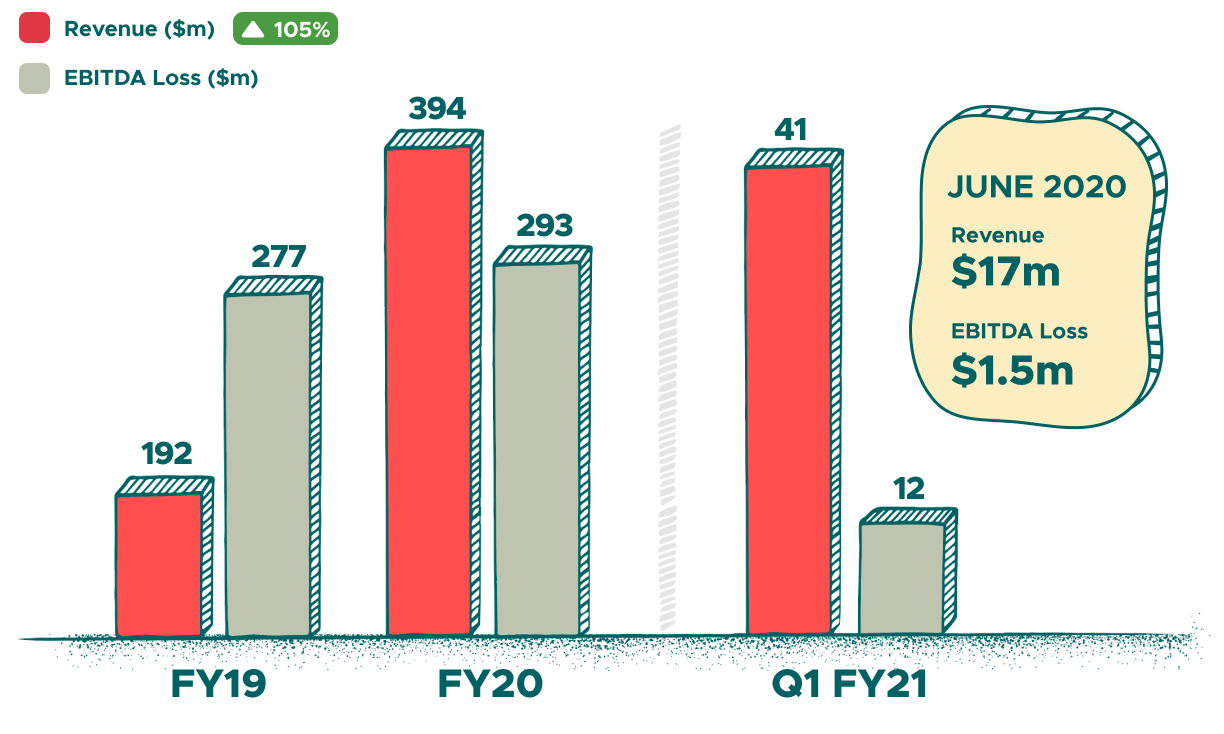 Speaking of which, Times of India reports e-commerce volume has surpassed pre-Covid levels with 3 million shipments per day as the lockdown eases
Zomato rival Dunzo got hit by a data breach, but it says customer payment details are safe
Freshworks bough Flint, an IT and cloud management platform in India
Flipkart is doubling down on fashion to rival Amazon: it invested $35M into decades-old Arvind Fashions
Paytm added WeChat-style mini programs to add services into its payment app. Early partners include food brand Faasos and medical services Practo and 1mg.
The Supreme Court can now issue summons via WhatsApp, Telegram and email
---
Southeast Asia
Indonesia's unicorns on money trail
Tokopedia is reportedly closing in on $500M-$1B in new funding (that's a wide range) with Temasek and Google among the investors. The round has been going a while but Covid-19 (of course) and a recent hacking of Tokopedia's service are said to have held things up. They have also slowed down IPO plans, which Bloomberg reports are still underway: the idea is a local and overseas dual listing.
Fellow Indonesian unicorn Traveloka is reportedly close to raising $250M at a reduced valuation of $2.75B. That's 17% lower than its previous valuation, which seems pretty decent given that the pandemic has disrupted travel significantly. Traveloka has made layoffs to cut costs, but it seems fairly clear that there's enough money in the company that investors will step in to help. In fact, reports suggest it has also attracted new suitors: Thailand's Siam Commercial bank and insurance firm FWD.
In other news
Gojek will rebrand its overseas businesses (Get in Thailand and GoViet in Vietnam) to Gojek and it is bringing them all under the same app. A logical decision it should have made from the start. But it's so far behind Grab it is hard to imagine anything can close the gap. Grab, meanwhile, got hit by a fine for promising drivers who leased cars from a partner priority access to customers. It also lost another CTO.
Indonesia dropped the hammer on a 10% digital services tax which will affect Netflix, Spotify, Google and others
Thailand may regulate food delivery services—a move that could prompt others to follow suit
Also in Thailand: Silicon Craft, a chip designer specialising in smart tags for animals, is poised to raise around $1.5M in a rare technology IPO in the country
What's left of HOOQ, the video streaming platform owned by Singtel which shut down in March, will reportedly be bought by Korean e-commerce giant Coupang. HOOQ already filed for liquidation but Coupang sees an Amazon-like play here. Rival Iflix was bought by Tencent's WeTV in a fire sale last month. (I wrote about that deal in ATR on 29 June.)
Internet providers are helping the Thai government track down dissidents
New kid on the online car sales block TiinTiin.id raised $2.5M—its CEO and other founding staff started Belimobilgue with Europe's Frontier Car Group (backed by Naspers) but now have their own venture
---
Japan
Coronavirus has delayed Yahoo Japan's massive merger with Line. There's no new deadline for when the deal will be done. 
Sony splashed out $250M to buy 1.4% of Epic Games, the developer behind Fortnite. The deal goes to show what an incredible coup Tencent made when it snapped up 40% of Epic for $330M in 2012. That stake is now worth over $7B based on the Sony deal.
Transportation operator Willer plans to launch an autonomous robotaxi service in Japan, Southeast Asia and Taiwan in partnership with Intel-owned Mobileye
---
Outside of Asia
A McKinsey report on Vietnam's recovery from Covid-19 
Lee Fixel—who masterminded Tiger Global's investments in India, which included Flipkart—has a new $1 billion fund but he remains as media shy and elusive as ever
"Spies, Lies, and Stonewalling: What It's Like to Report on Facebook"
---
Last week on The Ken
I work at The Ken where we publish one daily story for each of our subscriptions. Here's a recap what we ran last week:
Southeast Asia
India
You can sample more stories on our free reads page.
---
You just finished reading Asia Tech Review, the weekly newsletter for keeping up with the tech industry across Asia.
If someone sent this to you, you can sign up for free at Asiatechreview.com