Discover more from Asia Tech Review
A weekly newsletter to keep up with tech news across Asia.
Ant's record-breaking IPO is official and Covid-19 recoveries begin
Asia Tech Review: 28 October 2020
Welcome back,
I've been pretty busy so this newsletter comes to you on an unusual Wednesday morning time this time around—although it's actually just in time for Ant's confirmed IPO raise, which is the biggest news.
We're also seeing the first big companies claiming to have recovered from Covid-19. In Southeast Asia, Grab says its revenue is back to pre-pandemic levels and Traveloka expects to be profitable soon. Both have made pivots and refocused accordingly. India's phone shipments have also rebounded as has Huawei's reported revenue.
This week, I thought I'd share three newsletters that I frequently read:
Internet Stuff is a weekly newsletter from Neeraj Agrawal that often covers censorship and Asian internet madness

Keji Whispers is a daily email packed full of China technology news

The Moonlight Clan is a weekly email from my colleague Nadine on social media trends in Indonesia
Please send any newsletter recommendations you have my way. And do check out this 80-page illustrated story on the threat against media in India. Very proud of my colleagues for this important piece of work.
Until next time, take care,
Jon
---
China
Ant Group's record IPO is confirmed at $34.5B across Shanghai and Hong Kong at a valuation of $313B:
The Chinese company previously said that strategic investors have agreed to subscribe to 80% of the company's Shanghai-issued shares. Alibaba, via its subsidiary Zhejiang Tmall Technology, has agreed to buy 730 million A-shares, which are yuan-denominated shares of Chinese companies listed in mainland exchanges. This will allow Alibaba to maintain its roughly 33% stake in Ant Group.
Don't expect much of this to flow outside of China. Ant budgeted just 10% of its IPO capital for overseas projects, China is very much the focus due to changing regulation and increasing competition.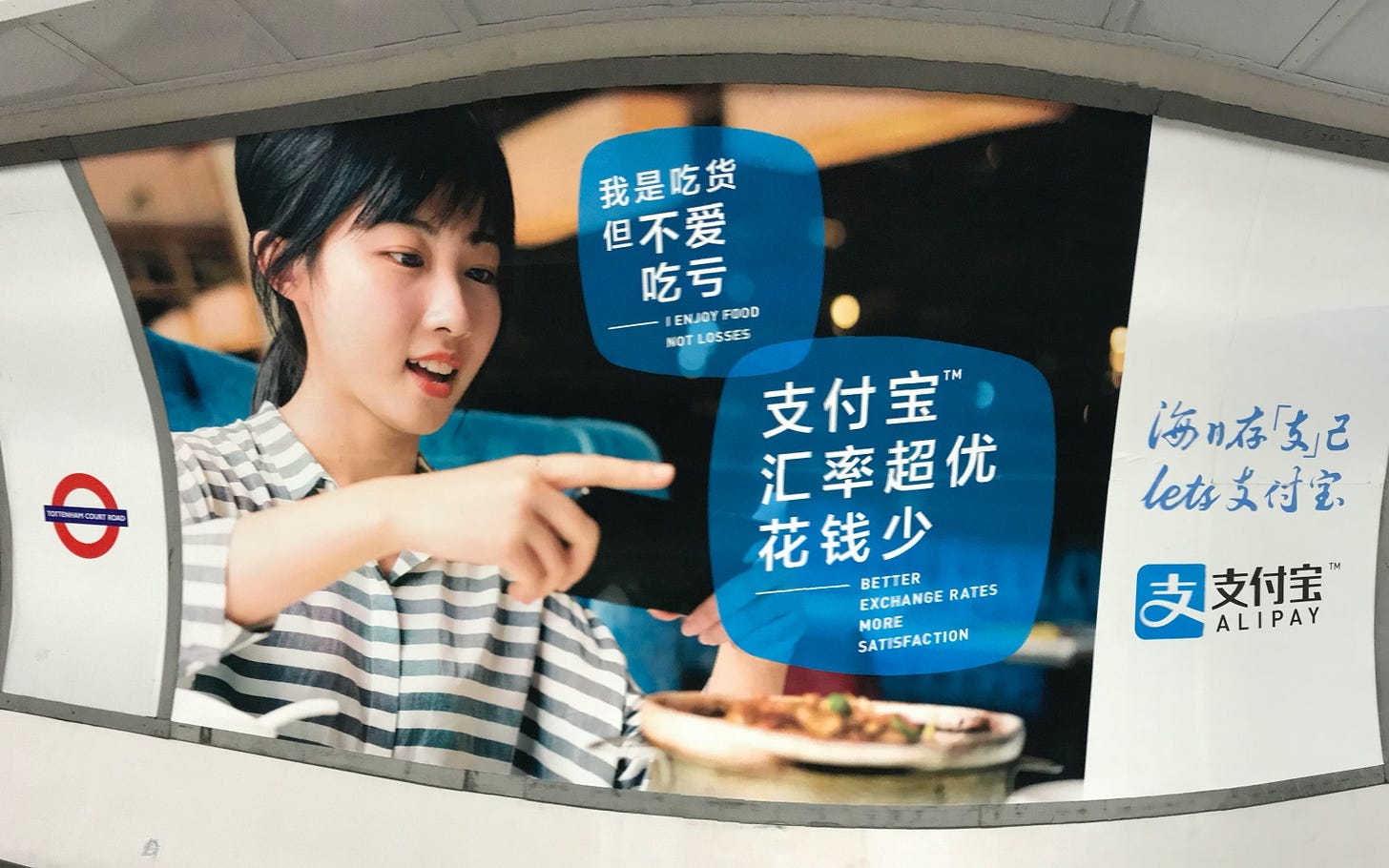 Image via Ged Carroll/Flickr (and yes, it is an Alipay ad on the London Underground)
A court has again denied the Trump administration's effort to ban WeChat in the US
Huawei may be selling pieces of its Honor smartphone brand due to running low on parts as a result of a US trade ban, but it has apparently hoarded a sufficient supply of 5G chips. Indeed, the firm said revenue grew 9.9% year-on-year from January-September to 671.3 billion yuan ($100.4 billion).
Related, the WSJ looks at how the trade ban has spread beyond telecom and semiconductors
ByteDance is said to be considering an IPO for its Douyin video service. Meanwhile, Douyin's cousin TikTok tied up with Shopify to make it easier for creators to get into social commerce
Rail-hailing firm Didi is also said to be looking at a Hong Kong IPO next year, the valuation is reportedly aimed at $60B
Alibaba took a majority stake in Sun Art, China's largest chain of hypermarkets, for $3.6B. It not only enhances its offline retail play but gives it potential to delivery produce and other fresh product faster and more efficiently—demand for this stuff has shot up during the pandemic
Online tutoring startup Yuanfudao raised $2.2B at a $15.5B valuation
Car website Renrenche, once worth $1.4B, is to be sold off for just $1,300 after running dry
Tencent lead a $100M Series B for China-based esports firm VSPN
China test drove its new digital currency with a $1.5M giveaway, but shoppers weren't all that impressed
A look at why China is a popular niche for newsletters
---
Taiwan
The Verge has consistently nailed Foxconn on its empty promises to bring tech manufacturing to Wisconsin—here's another story. Terry Gou, Foxconn's founder and former chairman, maintains that the investment agreement remains on. No word from the company itself though…
It doesn't look good when state reports suggest that Foxconn's LCD factory building "may be better suited for demonstration purposes rather than as a viable commercial glass fabrication facility"
Microsoft said it will build a data center in Taiwan, its decision is very much drive by the US-China tech war
---
India
India's smartphone shipments rebounded from Covid to an all-time high 50M in Q3 2020 according to Canalys
The latest test from Netflix in India is free access on the weekends—Hotstar has used free access to some programming to help build a colossal user base in the country
Qualcomm is working Jio on 5G—Qualcomm is one of the backers of Reliance's Jio Platforms business, although it invested less than most with a strategy amount of just under $100M. Reliance Retail, meanwhile, said its proposed deal to acquire Future Group's assets for $3.4B is legal under India law. Amazon won an injunction to halt the deal which it claims breaches an agreement it had made.
Elsewhere, Flipkart bought a $200M stake in Aditya Birla Fashion and Retail beating off reported interest from Amazon
Early stage VC SAIF closed a new $400M fund—its 7th—and it has also rebranded to Elevation Capital
Ed tech is hot: Former Housing.com co-founder's startup Genius raises $2M
InVideo raised $15M for its video creation and editing platform
FreshToHome raised $121M for its meat and vegetable e-commerce platform
Jumbotail, a b2b e-commerce marketplace also focused on food and grocery, raised $11M
India will issue rules on carpooling by December
Snap just had a big quarter, easily beating analyst forecasts, and now it is doubling down on India with new content and games—CEO Evan Spiegel famously dismissed less developed markets like India in the past but Snap has changed its tune in recent years given the size of the market and popular of video
Rakuten to plans to hire 1,000 more engineers in Bangalore, doubling its tech headcount there
---
Southeast Asia
Facebook has taken some positive turns by pushing back on governments in Southeast Asia, but a worrying LA Times report suggests it is increasingly complying with government censorship requests ostensibly because it is a major market for revenue
At The Ken, we looked at the major challenges that are blocking a merger between Grab and Gojek even if the duo can agree terms. Basically, we got bored of reading incremental updates on the deal—which are often leaked by companies—and got into the nitty gritty of dividing the region, the challenge of merging fintech and, of course, regulation. (Free to read with an account at The Ken.)
Grab says its revenue is back to 95% of pre-Covid levels thanks to food delivery, which is over half of sales. There's no word on losses, which are sure to have grown since food is fiercely competitive and promotion driven. So much for the path to profitability and IPO by 2023. Grab has to work on getting this business to break even, as it did with ride-hailing following years of big losses.
Google and Temasek have reportedly agreed to invest $350M into Traveloka, although the firm was said to have tried to raise as much as $500M. Tokopedia had earlier said it is close to profitability again thanks to recovery in Vietnam and Thailand
I looked at why Thai retail giant Central Group—whose controlling Chirathivat family is worth $9.5B—hasn't been able to crack e-commerce and faces a major threat if it can't
Apple created a 'boom town' in one of Vietnam's poorest states after it moved pieces of its supply chain there:
Not long ago Vietnam's Bac Giang province was one of the nation's poorest regions, known for producing rice, lychees and poultry dubbed "running chicken." That was before the global tech supply chain shifted its way.

Now officials in the rural area north of Hanoi host representatives from Apple Inc. and Hon Hai Precision Industry Co. The growth in foreign investment is almost doubling every year -- even during the coronavirus pandemic -- and the province forecasts the value of exports this year will reach $11 billion, a tenfold leap in six years. Residents have swapped loud, dirty motorbikes for new Honda two-wheelers while others drive Toyota SUVs and Mercedes sedans on freshly paved roads.
Line has begun to offer banking services via its chat app in Thailand
My colleague Kay assessed whether AirAsia can truly become a super app business
ShopBack has sold its Seedly budgeting service to CompareAsia
Bizarre one: Costa Rican's OMNi wants to bring its electric motorcycle-sharing service to Singapore
---
Japan
Japan plans to join forces with the US and Europe to regulate big tech
Early stage fund Genesia Ventures closed a $75M fund, which is its second
The country is also increasing efforts to guard the Olympics from cyberattacks after Russia was accused of meddling. What does an attack on the Olympics look like exactly? Well, nobody is saying—sadly—but reportedly they "targeted Games organisers, logistics suppliers and sponsors."
"One Man vs. the Fax Machine: A Battle to Defeat Old Tech in Japan"
---
South Korea
Lee Kun-hee, the executive credited with turning Samsung from copycat into innovator, has passed away. He had been hospitalised since suffering a heart attack in 2014 having been treated for lung cancer in the 1990s.
His son Lee Jae-yong will take over, but he faces uncertainty as he is in the midst of two trials over allegations he used bribery and accounting to smooth his succession
---
Other parts of Asia
Pakistan's government said it will unblock TikTok after it agreed to moderate user content. The app was blocked 10 days before. It claims 20M users in the country but there's obviously the potential to reach many more of the 212M population, hence kowtowing to state demands.
Bangladesh startup Shopup, which took part in Sequoia's Surge accelerator, raised $22.5M
India and Indonesia are among the countries where Apple plans to raise App Store prices
---
And also...
Facebook added a range of business features to WhatsApp, including shopping, payments and customer service
The New York Times on the downfall of mercurial footballer Mesut Ozil, who is frozen out of Arsenal following a series of events that began with a tweet criticising China for its action against Uighurs (painful to watch, I find Ozil's no-holds-barred approach refreshing...he's also truly a talent… and insanely well paid to do little more than tweet right now.)
The Portuguese government is turning former Airbnbs into subsidised public housing
---
You just finished reading Asia Tech Review, the weekly newsletter for keeping up with the tech industry across Asia.
If someone sent this to you, you can sign up for free at Asiatechreview.com